WELCOME FELLOW FLORIDA BEEKEEPERS TO THE INFORMATION AGE THROUGH THE WORLD WIDE WEB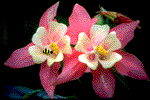 This site was originally designed and implemented by Pensacola Realtor Bill Overman over a 5-year period. He turned over management to the current webmaster Dr. Malcolm T. Sanford, Professor Emeritus, University of Florida, in 2004.
Special thanks are due to Bill for his foresight and dedication in both designing and making this site available during his tenure as webmaster. His vision and design remain integral parts of the site, as well as the copyright noted below.